We work very closely with families, business owners, risk managers and human resource departments. We anticipate that you would expect the same loyalties, cooperation and productivity from us that you would expect from your own family members or employees
Our Philosophy
We feel our client requires more than just the sale of insurance products. We want to be a consumer driven organization, providing our clients with the information and counsel they need to feel confident that their choices made are the best choices for them.
Our History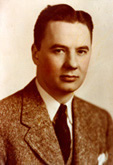 Robert P Wagner Sr. founded the Wagner Insurance Agency. In those early years he was a one man shop with a valuable business asset... it was his excellent reputation as an honest hard working executive whose word was his bond.
Today we have grown through three generations of Wagner's. Our offices are located in Dayton across from the fairgrounds, in historical downtown Lebanon, West Milton in Ohio's Miami County, and on the corner of Stroop Road and Shroyer Road in Kettering.
Proudly, Robert P. Wagner Sr.'s valuable business asset lives on in the Wagner Insurance Agency of today.
Associations & Memberships
Independent Insurance Agents Association
Professional Insurance Agents
Certified Insurance Counselor (CIC)