Finding water on floor the your home is one of the last things you want to encounter. By following a few steps you can help mitigate damage and make the cleanup process less painful.
You come home after a long day and the only plan you have for the evening is to have a relaxing night at home. But when you open the front door there is water all over the floor and you hear water running from the kitchen. You forgot to turn off the kitchen faucet this morning!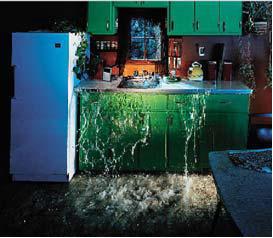 What do you do? Here are some useful tips professionals may apply to help get your home back to normal:
Find the water source. Is it clean or dirty? Be sure to take safety measures depending on the type of water exposed and always be cautious of electricity when you have standing water.
Stop the running water. Turn off the water or contact a plumber to stop the leak.
Where did the water go? Once you know where the water has spread, you can begin a plan for mitigation.
What can be done to mitigate the damage? Start by removing as much water as soon as possible. Reducing the water left behind will speed up the evaporation/drying process. A restoration company may be your best choice, depending on the situation.
Once the water is removed the drying process can begin. By airing the water left behind with air movers and extracting water vapors with dehumidifiers, it can reduce your property damages by balancing out the moisture.
Many people think nothing should be done until the insurance company inspects the water loss. This is not the case. You can immediately report the loss, but it is your duty to take action to lessen the damages. Follow these tips and you will be ready should you encounter any size water situation.