Whether you have a small family business, institutional facility, school or large corporate operation, accidents will have a direct impact on your bottom line. Customers or employees injured on your premises, property damage, or vehicle accidents can be
costly, both in dollars and in lost time. That's why Wagner insurance Agency offers its policyholders an array of loss prevention programs, resources, and services to assist you in minimizing risk and preventing accidents.
SafetyFirst™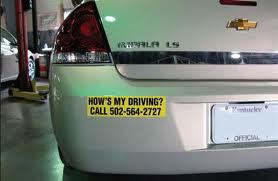 SafetyFirst is a behavioral monitoring system for fleet drivers designed to increase safety on the roadways by giving managers timely, credible information about drivers who are taking aggressive risks while behind the wheel.
How It Works
A decal with a unique vehicle identification number is assigned and affixed to each enrolled vehicle. The decals have a toll-free number for motorists to report driver behavior on the roadway. A 24-hour hotline staffed with trained SafetyFirst employees process the call and issue motorist observation reports by e-mail to the policyholder. The policyholder coaches the reported drivers with the aid of driver safety fact sheets sent along with the observation report. The policyholder returns a coaching report to SafetyFirst to confirm that the safety intervention discussion was performed with the driver.
What's in it for the Policyholder?
All types of commercial fleet policyholders including construction, delivery, service industry and transportation can benefit from using this program. SafetyFirst helps identify the 20% of fleet drivers that drive aggressively and who may ultimately end up in a vehicle accident. Monthly summary reports are made available which help spot trends in driving behavior and highlights repeat offenders. Statistics have shown that users of this behavioral approach can decrease frequency of accidents as much as 20 to 40%.
Who to Contact for more information
To learn more about this service, contact Michael Wagner at (937)620-5104 or send an email to mwagner [at] wagnerinsurance [dot] com