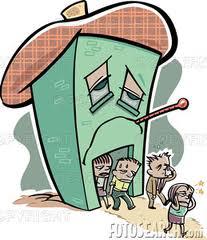 According to the National Safety Council and EPA, sick building syndrome (SBS) is a situation in which occupants of a building experience acute health effects that seem to be linked to time spent in a building. The complaints may be localized in a particular room or zone, or may be widespread throughout the building. What Causes SBS?
The following have been cited as contributing factors to sick building syndrome:
• Chemical contaminants from outdoor sources: Pollutants from motor vehicle exhausts, plumbing vents, and building exhausts (bathrooms and kitchens) can enter the building through poorly located air intake vents, windows, and other openings.
• Chemical contaminants from indoor sources: For example, adhesives, upholstery, carpeting, copy machines, manufac­tured wood products, cleaning agents and pesticides may emit volatile organic compounds (VOCs) including formalde­hyde.
• Biological contaminants: Biological contaminants include pollen, bacteria, viruses, and molds. These contaminants can breed in stagnant water that has accumulated in humidifiers, drain pans, and ducts, or where water has collected on ceiling tiles, insulation, or carpet. One indoor air bacterium, Legionella, has caused both Pontiac Fever and Legionnaire's Disease.
The Solution: Indoor Air Quality and Mold Liability Insurance Policy
Covers bodily injury, property damage, legal expense and building related clean-up costs resulting from pollution condi­tions on, at, or within a building on a covered location.
This policy is intended for:
• Real estate locations including apartments, condos, hotels, offices, and shopping centers.
• Commercial facilities including airports, colleges/universities, food services, and municipalities.
• Healthcare facilities including hospitals, healthcare centers and nursing homes.
Policy Benefits
• Coverage for both new and historical conditions.
• Clean-up cost coverage for the inadvertent disturbance of asbestos or lead-based paint.
• Definition of Bodily Injury includes building related illness and medical and environmental monitoring.
• Definition of Pollutants includes mold, Legionella, and EMFs.
Some Claims Examples
Apartment Mold
A few years after construction of an upscale apartment community, tenants complained about mold in bathrooms. Multiple build­ings and units within the complex experienced similar problems over the next few months. An extensive investigation revealed that construction defects associated with HVAC systems and showers caused severe water intrusion and moisture build-up leading to widespread mold growth. Damages to the property owner included loss of rents, clean-up costs, and settlements with injured tenants totaling over two million dollars.
Mold on Campus
A local college received several complaints from faculty and students about musty odors coming from the basement of a classroom building. Upon investigating and interviewing staff members, it was determined that a downward sloped walkway into the basement caused rainwater to leak into a service entrance. The combination of rainwater intrusion and poor ventilation over the years caused extensive mold contamination which needed to be remediated.
Nursing Home Mold
City inspectors received notice of possible building violations at a nursing home facility. The violations were serious in nature including signs of water damage on ceilings, light fixtures, and electrical switches. A further investigation discovered black mold within ceiling tiles, under layers of peeling paint, and in areas of noticeable water leakage. Residents of the facility were showing symptoms of rashes, headaches, asthma, and difficulty breathing. The facility had to be temporarily shut down and the residents relocated before clean-up of the extensive mold could begin. Families of several of the residents filed suits for bodily injury against the facility.