Want to make sure you are getting the right coverage for your business at the right price? Here are two things to think about.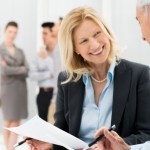 The deductible-premium tradeoff: Your premium is the amount you pay for your insurance coverage. It varies depending on a number of factors, including where your company is located, how many employees you have and the level of your coverage. The deductible is the amount you are responsible for paying when making a claim. Generally, the higher your deductible, the lower your premiums. Lower your deductibles and you'll pay less out of pocket in the event of a claim. But your premium will be higher.
Whether a BOP is right for you: Companies usually have the option of purchasing insurance coverage separately or in a package called a business owner's policy, or BOP. Typically, BOPs contain a number of different types of coverages, including property, general liability and business interruption. When you purchase different types of insurance coverage in one policy, or from one company, you often end up saving money.
Your relationship with your agent: Your insurance agent is an important partner in your business. Make sure to provide an in-depth explanation of what your company does so that your agent can make sure you are adequately covered for the types of problems and disasters that could otherwise destroy a business.
For more business insurance tips, take a look at this article.